Order lifetime license key for any PC to turn trial version into full version.
Supported: Windows 10/8/7/Vista/XP. 30 day money back guarantee.
For other payment methods click also here.
Your order will be processed securely and after a short time you will receive license key on your email.
After receiving registration key type it in the registration dialog invoked from About box as seen below: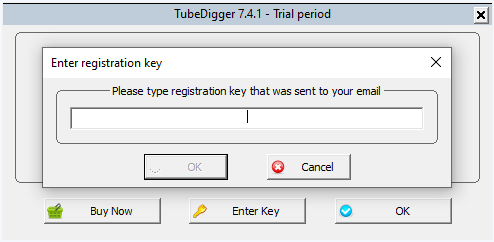 After successful verification of license key, TubeDigger trial version becomes full.
License key can be used simultaneously on multiple computers. Updates free.
TubeDigger is intended for personal use only, any other use of this software, including commercial use and distribution of downloaded media files, is not allowed.